Helmets & Sunglasses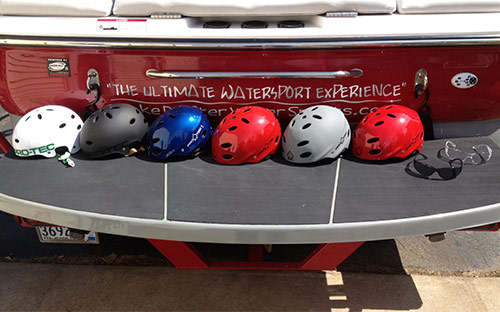 Protec, B2, and Ace Wake Water Helmets
Sizing - XXS (49cm or 19.3") to XL (60cm or 23.6")
The ProTec Water Helmet features:
An interior 2-stage, dual density EVA foam liner - a soft, "closed cell" liner, that will not absorb water, keeping the helmet light even when it gets submerged.
The "Rear Head-Loc fit system" cups the back side of your head, similar to fit systems routinely found on bike helmets. The fit system allows you to tailor the fit of the helmet to your head, including the height of the helmet as it sits on your head, as well as the amount of tension front-to-back on your head.
The removable side ear cups help protect your eardrums from bursting during sideways water impacts.
The ProTec Water Helmets are certified to the CE EN 1385 Water Sport Safety Standard.
MSA Artic Clear and Tinted Glasses
Arctic safety glasses are designed for protection against impact hazards and/or flying particles, dust, sparks and glare. Provides excellent side and front impact protection while still being comfortable to wear. Stylish cat's eye look with Tuff-Stuff anti-scratch lens coating. Complies with all applicable test requirements of ANSI Z87.1-2003. (High Impact).