Surf & Skate Boards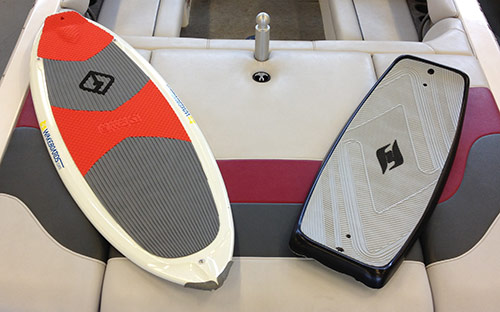 The CWB Ride Wakesurf Board has a super user friendly shape and design which makes learning both easy and fun. There has never been an easier way to learn to wakesurf than with the CWB Ride Wakesurf Board.
Construction: Stable design and user friendly shape / Compression molded / EVA tip protector
Surface Features: EVA pad with molded kicktail
Ability Level: Beginner - Intermediate
PFin Configuration: 4 fiberglass fins, 3 at the tail, 1 at the tip
The Hyperlite Nomad Wakeskate starts with a blended 3-stage rocker line to generate more speed into the wake. A wider overall profile for increased surface area gives the rider extra wake-to-wake pop. The Nomad has dual base channels for tighter edge hold into the wake. Finished off with more pronounced concaves and a hybrid EVA / grip tape top, the Nomad is built for today's skaters riding both wake and rails.
Shaped by Butch
New EVA / Griptape Blended Top
Wide Profile
Deeper Top Concaves and Kicktail
Blended 3-Stage Rocker
Dual Tip/Tail Channels
Layered Glass
Fins: 2 – Shank