Wakeboards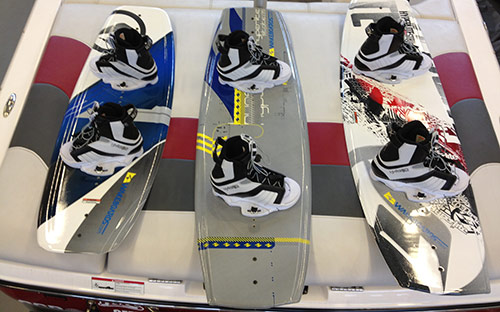 The Hyperlite Motive Kids Wakeboard is preferred by beginner/intermediate riders who like the stable flowing feel. The Motive Kids Wakeboard provides a mellower turn with smoother lift off the wake. This series is perfect for kids first time behind the boat. The Motive also offers some performance. Shawn Murray won the Pro Wakeboard Tour Title on this board back when it was called the Belmont. If it is good enough for Shawn Murray, your kids will be more than satisfied.
Hyperlite State 135
The State series is a shape that you don't have to learn how to ride. The features let a boarder determine their own style. This series is the building block to the rest of the high-end line.
An asymmetric shape allowing a rider to stand higher up the wake on their toeside edge with increased leverage on their heelside rail.
Deeper molded-in toeside fins set a harder cut, shallower molded-in heelside fins create a quicker release.
Outer stabilizers create a more stable ride and help a rider recover from off unstable landings.
A snappy 3-stage rocker with a full-length "V" bottom tunnel helps break up the water for cushioned landings.
The Hyperlite State 140 Wakeboard is a wakeboard that you do not need to learn how to ride. The Hyperlite State will help you determine your wakeboarding style. Hyperlite designed the State to be asymmetrical so that is shaped slightly different on the bottom toe side of the board compared to the heel side. The State was designed this way to help beginner and intermediate riders generate more leverage on their toe side to help develop a balanced riding style. The State is a great board for riders getting into the sport or those who are looking for advancement in their skills on the board.
Toe Side/ Heel Side Specific Edges
Deeper Molded-in Toe Side Fin
Outer Molded-in Stabilizers
Subtle 3-Stage Rocker
Monocoque Construction
Layered Glass
Fins: 2 – 1.3 inch Disorder
Bindings
Every wakeboard is equipped with Hyperlite Remix Wakeboard Bindings. Remix Bindings have an all-new design for a very supportive but easy-to-get-into adjustable boot. It has dual lace zones like much more expensive boots, but the plushness you come to expect from an open-toe. The tongue has a neoprene stretch panel on the medial side where feet are thicker and need the adjustability, but the tongue is fixed on the lateral side where you need the support to land big airs. The new J-bar pads wrap around the ankle bones for a snug fit and eliminate heel lift. A great pair of Hyperlite Remix Wakeboard Bindings for every level of rider!
Hyperplush Rear Flex Zone
New Two Piece Construction
Adjustable/Fixed Floating Toe
Dual Quick Cinch Front Lace Zones
Single Density Footbed
Mens 4-8.5, 7-11, 10-14 & Womens 3-7, 6-10