Kneeboards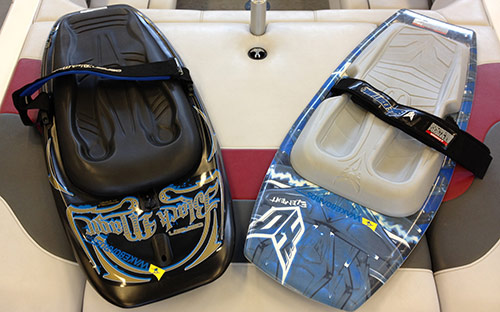 The O'Brien Black Magic Kneeboard is one of the best all-around "family" kneeboards on the market! Super low profile twin tip shape and retractable fins give the O'Brien Black Magic kneeboard awesome speed and performance. O'Brien's power control kneepad and 3" padded strap are comfortable and hold you in tight, giving you the confidence to bust new moves with ease. And, of course, it includes the patented aquatic hook to make learning easy.
Retractable fins
Slim profile design
Aquatic hook
Padded adjustable strap
Durable plastic base
HO Element Knee Board is a compression molded kneeboard. Rip through the water thanks to its shaped hard rails that give you a deeper edge and will allow you to have deeper tracking channels and controlled landings. This Element Knee Board by HO comes equipped with a tri-density knee pad for soft landings, keeping you stable and held tight to shred. The fully adjustable single locking comfort strap will also keep you secure while you are getting used to the elements around you all summer long.
Symmetrical compression molded board
Hard rails for deeper edge control
True straight channels for positive tracking
Fully adjustable single locking comfort-strap
Great design for all levels of riding