Life Jackets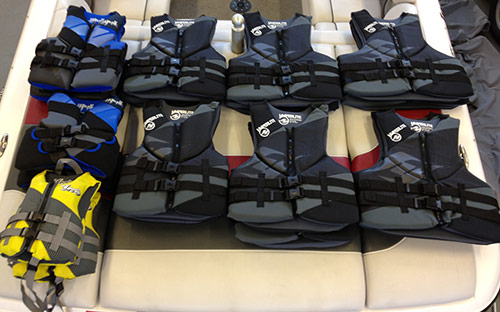 Hyperlite Yellow Child Life Jacket
The Hyperlite Child Life Jacket is a high-end kid's life jacket designed for children from 30-50 lbs. This neoprene child life jacket will provide warmth, comfort, and safety to your children.
Size = Child (30 - 50 lbs)
The Hyperlite Blue Teen Life Jacket was designed for waterskiing and wakeboarding. Like all neoprene life jackets, this life vest will be more comfortable and last longer than conventional nylon life jackets. Because the Hyperlite Teen Life Jacket is warmer and more comfortable, it is more likely that your teen will wear it making this high-end kid's life jacket safer than other options.
Size = Teen (90-120 lbs)
Size = Youth (50 - 90 lbs)
Grey Hyperlite Indy Life Jacket
Super comfortable neoprene design with oversize arm holes that won't get you caught up like many other life vests. The Hyperlite Indy Neoprene Life Jacket has been reworked and now has a segmented core to create flex zones for even more comfort and an added range of movement.
HO Life Jacket Size Chart
Small - 32"- 36" Chest Size
Medium - 36"- 40" Chest Size
Large - 40"- 44" Chest Size
X-Large - 44"- 48" Chest Size
XX-Large - 48"- 52" Chest Size
3X- Large - 52" - 56" Chest Size